The Montreal Protocol and the GDU
Montreal Protocol Approval
The Montreal Protocol is considered the most successful global environmental treaty with all 197 member countries committed to eliminating the man-made causes of Ozone Layer Depletion
99.99% Efficiency
The EIM Technologies Gas Destruction Unit (GDU) is the only Methyl Bromide destruction technology approved by the Montreal Protocol as capable of exceeding their 99.99% minimum destruction efficiency.
EIM/Mebrom Partnership
Mebrom is proud to partner with EIM Technologies in bringing the EIM Gas Destruction Unit to the world. The GDU is a prime example of EIM and Mebrom's commitment to environmental protection and pollution abatement.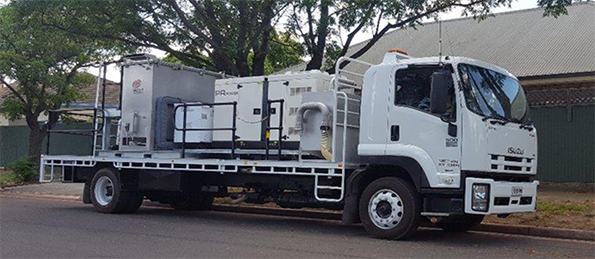 The EIM Gas Destruction Unit (GDU) is a fully automated, fail safe, single pass system for the capture and destruction of toxic or environmentally damaging gases, and has the following features:
The GDU utilizes an extremely effective combination of sequential oxidation processes to destroy Methyl Bromide, which is then converted into a harmless salt by chemical reaction within the liquid-based scrubber.
All components of the air entering the GDU pass through a series of no less than 7 specialized filters before exiting the machine, thereby ensuring consistency of process and emissions.
The GDU is the only technology in existence that has been proven to exceed Montreal Protocol Destruction Technology requirements for Methyl Bromide, and therefore is an approved destruction technology.
GDU test results, based on high resolution "Gas Chromatography/ Mass Spectrometer" analysis, prove that the GDU destroys between 99.99 – 100% of the target gases and their extremely toxic by-product gases.
The GDU can be used in a variety of industries and markets including, but not limited to:
Quarantine, Customs, Importers, Exporters, Port Operators (general/containerized), Maritime Transport (in-transit fumigations), Pest Control, Agriculture/Horticulture, Emergency Services (degassing of structures, etc.), Electronics manufactures, Refrigeration, Foundries, Hospitals (sterilant gas destruction), Civil Defence (Anthrax, nerve gas destruction), etc.
For more info about the EIM Gas Destruction Unit capabilities and features, please visit EIM TECHNOLOGIES' website or contact us directly.